Current Newspapers in Seymour Library
The Library subscribes to the following newspapers in print. You can find them in Seymour Library in the southwest corner of the first floor.
International papers:
National papers:
Local papers:
Accessing The New York Times Site
Full access to The New York Times site is now available to students, faculty and staff of Knox College via the NYTimes Group Pass program. To create your account on the NYTimes site:
From a computer on the Knox College network, go to nytimes.com/grouppass.
Create an account using your Knox College email address. If you already have an account using your Knox address, you may log in with those credentials.
When you see START YOUR ACCESS, the expiration date of your pass will appear.
Continue to the NYTimes.com site for full access to content.
What you need to know about the NYTimes Group Pass program:
The Group Pass gives you unlimited access to all content* on the site, with the exception of a limitation on the number of articles you can view from the archive period 1923-1980 (5 articles for the duration of your Group Pass). If you need articles from the archive, visit The Historical New York Times database.
If you have an existing paid NYTimes.com digital subscription, you are not eligible to activate a Group Pass.
If you are ever on the NYTimes site and you see a message about reaching the limit of free articles on the site, make sure you are logged into the NYTimes site with the credentials you used when activating your Group Pass.
If your Group Pass has expired, visit nytimes.com/grouppass to activate a new pass. To activate a new pass you must do this from a computer on the Knox network.
The Group Pass includes free access to smartphone apps at http://www.nytimes.com/services/mobile/index.html. Apps are available for iPhone/iPod Touch, Android and Windows. Mobile apps for tablets are not available with the Group Pass, however, you can access the NYTimes.com mobile site (mobile.nytimes.com) using your tablet's browser.
*Does not include e-reader editions, Premium Crosswords or The New York Times Crosswords apps.
---
To Change Your Password:
Go to http://www.nytimes.com/ and click on the Log In button in the top right.
Go the top-right of the screen and click the little arrow next to your username to see the menu.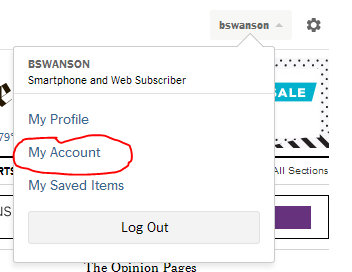 Choose "My account" and change your password here.
If you have questions about or problems with the NYTimes Group Pass, please email reference@knox.edu.
Access World News is a database of thousands of sources: newspapers, broadcast transcripts, newswires, news blogs, news web-only content and video and includes local, national and international sources.
LexisNexis has major U.S. and international news sources, news wire services and TV and radio broadcast transcripts.